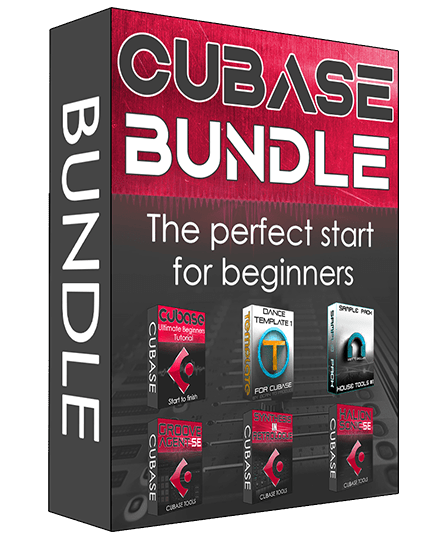 Cubase Beginner Bundle
Get started quickly in Cubase with all the tools and tutorials that you need.
What's in the bundle?
Cubase 12 Beginner Tutorials (both the electonic and recording versions)
Retrologue Tutorial
Groove Agent Tutorial
Halion Tutorial
FULL House Tools Sample Pack
Over 9 hours of Cubase skills
Cubase Beginner Tutorial
(Both the Electronic & Recording versions are included in this bundle) - They are the number 1 Cubase Beginner tutorials on the internet. Learn how to use Cubase by actually following along and making a track from start to finish. Along the way you'll not only lean how to use Cubase, but you'll learn how to produce music at the same time
Cubase's Synth - Retrolgue Tutorial
A fantastic analogue synth, which has many facets and applications in music and sound design. In this tutorial you'll learn how to navigate the inteface, and how to craft your own sounds from the sonic landscape
Cubase's Drum Machine - Groove Agent Tutorial
Groove Agent allows you easy access to beats in almost all genres at the click of a button. Those beats can then be customized and tweaked to work wonders in your own music. Here you will learn how to use all of it's poweful kits and tools to make your own awesome beats
Cubase's Rompler Instrument - Halion Tutorial
Halion has hundreds of instruments built into it; everything from grand pianos to flutes, and brass instruments. It also has other levels to it like fully capable synthesizer instruments. So this is a bit of a beast. In this Halion tutorial you will learn how to use it to create extra content for your tracks
Cubase Dance Template - Quick Start
If you want a quick start to your journey in Cubase, then this is the right template. It has been made for all versions of Cubase, and comes with everything you need already setup and ready to go. It even comes with tutorial videos showing you exactly how to use it so you get the most out of it
Born To Produce Sample Pack - House Tools
Over 750mb of highly useable and unique sounds for you to use in your own productions. All sounds have been crafted from the ground up and are royalty free
The reason we get great reviews...
Cubase is an incredibly powerful DAW, capable of the highest level of professional music production. In order to learn it, you need a tutorial with the same level of professionalism, and teachers who are passionate about helping you become a better producer.
Our tutorials take months of planning and execution. Everything you are taught has the sole purpose of giving you the best learning experience and the greatest transfer of knowledge possible. Simple, powerful & fun.
Born To Produce is a Steinberg certified training centre
ONWARDS!
We hope the course overview videos were insightful. If you want to learn music production in Cubase then there is no better value way than to grab this bundle
We keep the price of our beginner bundle low so it's accessible to everyone. By making a commitment to yourself in learning Cubase, you are also supporting us, and enabling us to keep making these in-depth tutorials that help thousands of fellow earthlings around the world become better music producers.
Instant Download

Cubase 'Elements', 'Artist' & 'Pro' compatible*

Only stock plugins and instruments used

Email support (less than 24 hour response time)

Compatible with Cubase 9.5 and upwards
*Not for Cubase AI or LE users (free version). If you own Cubase AI or LE start HERE
OUR MOST POPULAR TUTORIALS
Hi With my electronic drum kit from Yamaha i received a license for cubase AI Elements LE, is this course also for this version. of cubase Thx for yr answer

Hi. The version you have is very limited so it's not ideal. Of course you would still learn alot but there would also be some functionality missing. Maybe start with our free course on YouTube for the AI course here https://youtu.be/9jzINm8aQHs

What is the difference from v10.5 Cubase Beginners Bundle that I purchased last year and this one 11.0?

Hi Garry. We make a new song from scratch and use a couple of Cub 11 features but the format is mostly the same, i.e. make a track from start to finish.

How many lessons come with Cubase Starter Kit/The perfect start for beginners?

Beginners course = 23 lessons,  Retrologue 14 lessons, Groove Agent 10 lessos, Halion Se 13 lessons

How many hours of training in the Cubase Starter Pack versus the Cubase Ultimate Beginners program?

You get the same beginners course plus 3 other courses totalling around 5 hours extra, plus a template and a sample pack.

In the Kit "The perfect start for beginners"are there any videos in it? Or should I start as a beginner with "The Ultimate beginners"kit. Thank you for your reply. BTW I am a beginner of 66 Years and have some problems with my eyes, so reading text from the screen is difficult for me.

Yes the beginners course has 23 video lessons. You are not reading text from a screen - you are learning how to use Cubase so you're seeing Cubase most of the time. The beginner (starter) kit has exactly the same course plus 3 other courses too (and other bonuses too). Best wishes. BTP

Hi. I have just purchased Cubase Artist 10 and have watched your very useful 3 free videos for beginners on you tube. I'm interested in buying your full beginners course but it says Cubase 11. Would it be suitable for me? Secondly do you have any courses on detailed MIDI set up with Cubase? Many thanks

Hi there. When you buy the Cubase 11 tutorial you get the 10.5 version aswell - FREE. Yes it will be fine for you. We don't have MIDI set up tutorials as such as normally MIDI devices are plug and play. However if you are having problems with a particular controller it's best to contact the manufacturer of the unit or search specifically for a guide on setup. Hope this helps a bit.

Hi there, I have Cubase 11 and would like to buy the beginners bundle. There are slight differences between 10.5 and 11. Is this a problem for the course or shall i just buy it?

Hi. The beginners bundle includes the Cubase 11 course and also last year's 10.5 course so you are covered :)

Hi Guys, I am an absolute beginner when it comes to music production using software when I was younger it was mostly hardware based! I have just purchased Cubase 11 pro and also Komplete 13 with the S88 MK2 controller as I want to start writing again! I would like to know if your beginner course shows you how to set it up with the Audio interface and the controllers? If not what course would you recommend please?

Hi :) Our beginners course shows you the very basic of setting up. The feedback tells us to get on with the course as soon as possible. We've just checked and there are lots of videos on YouTube and Native Instrumenst website on how to set that particular controller up. Our course will teach you Cubase and music production once you are up and running.

Would I be able to use this course with artist 11 or are there some parts that are for pro only .thanks

You're absolutely fine in Artist. Even Elements users are catered for :) We do correct the vocals in Vari-Audio (pro only) but we show other ways to do it and also supply the audio.

Thank you very much for the cubase classes on youtube, I want to buy some bundles of courses, may i ask: 1、How much is the discount on blackfriday?sorry i am poor i must wait the blackfriday. 2、I browse your classes through VPN . Can i buy your courses? It will send to my emailbox? Thx

Hello. The BF discount will probably be 30% approx. But the bundles will probably not be included as they are all hugely discounted already. All courses are sent to your email and are download only. Best wishes.

I use focusrite 2i4 and cubase 10.5 pro. When I share screen of cobase for remote control by another user. The sound of cubase is not being shared. Can you suggest something?

We think in Team Viewer there is an option in the settings to share sound but we're not 100% sure.

I have just purchased Cu-base 10.5 and have the Line 6 UX2 soundcard. When trying to record a track there are no waveforms showing in the track as it moves along, just a thin line. I have had a look at your Youtube "missing content video" however it doesn't cover this so unsure where to go from here? Any advice would be great. I have also had a look at your tutorials on line and would be grateful if you could give me an idea where to start as i want to learn the whole thing inside out. I previously worked on cubase 3 and used the UX1 Toneport (still have the UX1) so have some exp[experience in recording a piece from start to finish but given the difference in layout of 3 and 10.5 think i could just do with being pointed in the right direction and also there are many features i am unfamiliar with so again an idea of which courses to initially look at would be great. Regards Tony

Hi Tony,

Sounds like your microphone is not picking up or sending through to Cubase. It could be a lot of things. I will list a few. 
The microphone is a condensor type and the phantom power is not switched on. 
The mic input is too low.
The inputs and outputs are not set up in Cubase (press F4)
Your sound interface does not have the drivers installed or is not selected under Studio - VST system
This 6 part free course covers these things so a watch through
https://youtu.be/9jzINm8aQHs

Hope this helps

I've been making MIDI songs since the 90's and I can't find any tutorials that address midi from a General Midi standpoint or that actually explain basics like program changes in cubase. I want a complete cubase midi tutorial. What do you suggest?

We do have a MIDI course but it is for beginners so probably not much use to you. There maybe a MIDI course on another website or YouTube / Google. https://www.borntoproduce.com/collections/cubase-tutorials/products/cubase-midi-course-for-beginners

I bought and downloaded beginners cubase tutorials. It downloaded into a zip folder. How do I access that folder?

Just double click it and your PC or Mac should unzip it for you automatically. If not and you use a PC you can download a free program called WinRAR.

Hi is this compatible with a Mac set up? And do the workflows demonstrate a Mac workflow? Thanks

Yes compatible with Mac. Cubase is the same on Mac and PC. The only difference being the buttons CTRL and Alt. CTRL = CMD and Alt = Option.

Can I download the tutorials on to more than 1 device. e.g. an iPad and a laptop?

Yes no problem!

Your ultimate beginners course for 22euros states that the tutorial is for Cubase 10.5 and it has also the tutorial for 10 along as well. Is that the same for this "Starter Pack". I am using 10 now and do not know if or when I will update to 10.5. Is the Groove Agent Tutorial for version 5 or 4?

We can send you the 10 course too no problem but really they're very similar and there is nothing in 10.5 that stops you following the course if you only have 10. The GA version is SE4 but again the difference is only extra samples.

I recently took your free online Cubase10 classes (1-4). I then went on to purchase your beginners training classes and one other training pack for groove training. When taking class 4 there are references to a set of VSTi that are needed to fully duplicate Jon's track which supposedly included on audio files that come along the class. The only audio track included in the pack of classes I purchased were on class 5, however, the VSTi s J9n references were not in this directory after I unzipped the files. Any suggestions as to where I can locate and download these?

Hello :) In Lesson 4 we refer to our House Tools 1 sample pack and we do give the samples we used in the course free with the downloadable workfiles. When the zip file is unpacked you should see an audio folder with all the required samples and audio in there. If your problem is not resolved please email me (Jay) at info (at) borntoproduce (dot) com and we'll help you there. All the best. J

How do you do a continuous Dj mix with different tempos and make them all synch together is that possible. I have Cubase 11 Artist running windows I purchased one of your courses but it had nothing to do with this.

Hi. That's something which is tricky in a DAW.  You could time stretch all songs so they're the same tempo by making sure all the separate audio clips are in musical mode. They will then all adjust to the tempo set in the project. The other way to do it is to use the tempo track in Cubase and automate changes in the project's tempo. There are videos on YT about the tempo track. Hope this helps. Persoanlly, we find mixing the tracks together on DJ equipment allows for better results.

Hi, I own Cubase Elements 12 and after completing the 3 free lessons on Youtube I'm looking into buying the Cubase Beginner Bundle. Because the Retrologue instrument is not included in Element I'm wondering if the Retrologue toturial will be of any use to me?

Great question Robert, Elements is a bit limited. It won't be any use unless you decide to upgrade Cubase in the future. However I'd be happy to give you a different tutorial or sample pack of your choice up to the same value (£24), free of charge (in addition). After purchase, email me directly jay (at) borntoproduce (dotcom) and I'll arrange that for you. Maybe the MIDI course? Up to you.