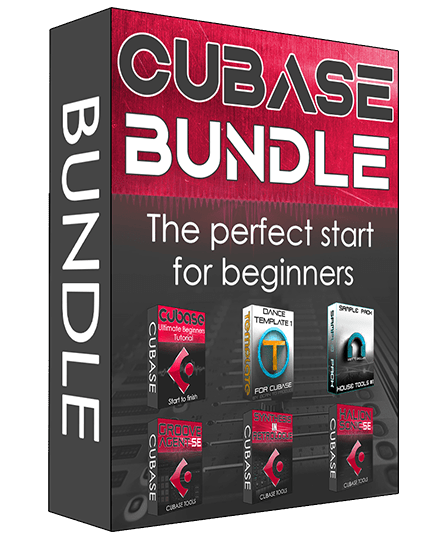 Cubase Beginner Bundle
Get started quickly in Cubase with all the tools and tutorials that you need.
What's in the bundle?
Cubase 12 Beginner Tutorials (both the electonic and recording versions)
Retrologue Tutorial
Groove Agent Tutorial
Halion Tutorial
FULL House Tools Sample Pack
Over 9 hours of Cubase skills
Cubase Beginner Tutorial
(Both the Electronic & Recording versions are included in this bundle) - They are the number 1 Cubase Beginner tutorials on the internet. Learn how to use Cubase by actually following along and making a track from start to finish. Along the way you'll not only lean how to use Cubase, but you'll learn how to produce music at the same time
Cubase's Synth - Retrolgue Tutorial
A fantastic analogue synth, which has many facets and applications in music and sound design. In this tutorial you'll learn how to navigate the inteface, and how to craft your own sounds from the sonic landscape
Cubase's Drum Machine - Groove Agent Tutorial
Groove Agent allows you easy access to beats in almost all genres at the click of a button. Those beats can then be customized and tweaked to work wonders in your own music. Here you will learn how to use all of it's poweful kits and tools to make your own awesome beats
Cubase's Rompler Instrument - Halion Tutorial
Halion has hundreds of instruments built into it; everything from grand pianos to flutes, and brass instruments. It also has other levels to it like fully capable synthesizer instruments. So this is a bit of a beast. In this Halion tutorial you will learn how to use it to create extra content for your tracks
Cubase Dance Template - Quick Start
If you want a quick start to your journey in Cubase, then this is the right template. It has been made for all versions of Cubase, and comes with everything you need already setup and ready to go. It even comes with tutorial videos showing you exactly how to use it so you get the most out of it
Born To Produce Sample Pack - House Tools
Over 750mb of highly useable and unique sounds for you to use in your own productions. All sounds have been crafted from the ground up and are royalty free
The reason we get great reviews...
Cubase is an incredibly powerful DAW, capable of the highest level of professional music production. In order to learn it, you need a tutorial with the same level of professionalism, and teachers who are passionate about helping you become a better producer.
Our tutorials take months of planning and execution. Everything you are taught has the sole purpose of giving you the best learning experience and the greatest transfer of knowledge possible. Simple, powerful & fun.
Born To Produce is a Steinberg certified training centre
ONWARDS!
We hope the course overview videos were insightful. If you want to learn music production in Cubase then there is no better value way than to grab this bundle
We keep the price of our beginner bundle low so it's accessible to everyone. By making a commitment to yourself in learning Cubase, you are also supporting us, and enabling us to keep making these in-depth tutorials that help thousands of fellow earthlings around the world become better music producers.
Instant Download

Cubase 'Elements', 'Artist' & 'Pro' compatible*

Only stock plugins and instruments used

Email support (less than 24 hour response time)

Compatible with Cubase 9.5 and upwards
*Not for Cubase AI or LE users (free version). If you own Cubase AI or LE start HERE
Regular price
£169.00
Sale price
£79.00
Unit price
per
Sale
Sold out
Share
View full details
OUR MOST POPULAR TUTORIALS