LEARN LOGIC PRO X -

THE EASY WAY
LEARN LOGIC PRO X -

THE EASY WAY
LEARN LOGIC PRO
THE EASY WAY
Logic Pro Tutorial For Beginners
Learn to make music in Logic Pro by following along step by step and making a complete track from start to finish. On the way, you'll learn Logic Pro and music production, and everything you need to make your own music, in any genre you like.
Watch the course overview for a more in-depth look at what you'll get out of the course, and listen to the track you will make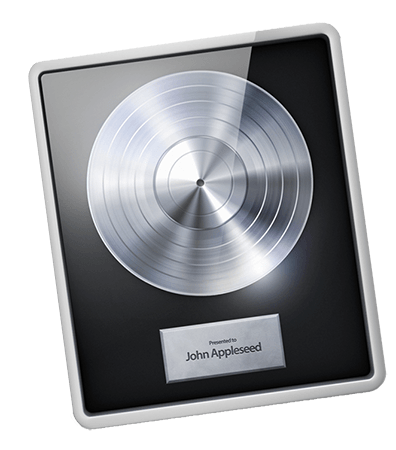 The reason we get great reviews...
Logic Pro is an incredibly powerful DAW, capable of the highest level of professional music production. In order to learn it, you need a tutorial with the same level of professionalism, and a teacher who is passionate about helping you become a better producer.
Our tutorials take months of planning and execution. Everything you are taught has the sole purpose of giving you the best learning experience and the greatest transfer of knowledge possible. Simple, powerful & fun.
What are you going to get out of it?
Experience
There is no way around it. If you want to get good at making music, you need to gain experience. When you follow our Logic Pro tutorial, that is exactly what you are getting, not just the theory, or someone explaining what each button does (when you have no context to understand it in the first place). On this course you get real, practical experience, that will actually help you make your own music.
Music Production Skills
It's all good learning about Logic Pro, but if you don't know anything about music production you will never get anywhere. In this course you learn music production skills at the same time as learning about Logic Pro. Not only that, but you learn them in a linear fashion, which is the same as when you work on projects in the real world. This approach is far more effective than traditional training methods.
Inspiration
In this course you'll gain many inspiring ways to help you make your own music, including the steps required to get you there. Everything from coming up with melodies, to chopping up loops to creating your own original beats. The possibilities are endless and you'll go away with a load of easy to repeat ideas that you can use in your own tracks.
Reward
There is nothing quite like the satisfaction felt when you complete a song. In each and every lesson, you will progress as a music producer, and add more and more to your track until it is complete. Going from the basics of creating a beat, creating a melody, arranging your track into a full song, learning to record vocals & guitar, and mixing all of it together is something YOU CAN achieve, even as a complete beginner
Check out the first 5 lessons of the course and see how easy it really is...
ONWARDS!
We hope the first 5 lessons were helpful. If you want to continue to learn music production in Logic Pro X and finish the track you have started, click the button and gain access to the remaining 21 lessons (over 4 hours) of Logic Pro and music production gold dust.
We keep the price of our beginner courses low so they are accessible to everyone. By making a commitment to yourself and learning Logic Pro, you are also supporting us, and enabling us to keep making these in-depth tutorials that help thousands of fellow earthlings around the world become better music producers.
Instant Download

Only stock plugins and instruments used

Email support (less than 24 hour response time)

All audio, MIDI, presets and Logic Pro X project files are provided
Module 1 - Getting Started
You'll get started with Logic Pro in the easiest way possible. Making a basic beat in the first lesson and adding to it as the tutorial progresses. Here you will start to learn how to navigate Logic Pro's interface, importing sounds, adding instruments, and editing them to create the elements of your track.
Module 2 - Chords & Melodies
The melody of the track is super important as it will spike a listener's interest, and if done right, it will keep them pulled into your music all the way through. You'll learn how to use the in-built sampler effectively to create this melody. We also explore and experiment with basic music theory to create a simple chord progression, and with a bit of guidance you learn to make this more interesting by using simple and easy to repeat techniques
Module 3 - Effects & Instruments
To develop your skills, you will use a combination of Logic's in-built sampler and some audio editing techniques to manipulate a standard drum loop and customise that beat so it fits with your track. On a similar note, you will start to learn the basics of synthesis using Logic's Retro Synth VST by making your own bass-line and pad. You will also use compression, side chain compression, EQ, filters, saturation, reverb, delay and many more plugins
Module 4 - Song Structure
You're going to become familiar with what a good arrangement is and why the energy levels of each section are so important. You will be able to choose the right elements for each section and be able to make each section stand out. A great story/song has ups and downs, it has tension and release and it generates an emotional connection with the listener.
Module 5 - Recording
Recording in Logic can be a fun, creative and really rewarding experience. It can also be incredibly frustrating if you don't know what to do and how to setup for it. In this module you will learn how to setup to record both direct input (DI) for guitar and microphone for the singer.
Module 6 - Mixing
Mixing can be one of the most difficult things to get right when you are new to making music. Here you will learn how to approach it and how to avoid common mistakes that other producers make. The key to a good mix is balance, but you need to understand what that means and how to achieve it. You're going to mix and master the track you make with all the tools available in Logic. Volume mixing is the start and then using EQ and compression to clean and tighten. You'll use more advanced processes to create a balanced mix with clear separation between the elements.
Jay Hales

(Tutor & Co-Founder of Born To Produce)

has produced in most genres over the last 20 years, as well as successfully DJ'ing across many countries throughout Europe. He writes music for TV companies and makes his own personal music in a wide range of genres.
His attention to detail, knowledge and clear teaching style make him the perfect person to learn your music production skills from. He is super approachable so feel free to get in contact with him and ask a question. He is also open to feedback and always looking for ways to improve and offer even more value for money.
Get in contact any time to give feedback, ask for help, or just say hello. Use the contact form HERE
OUR MOST POPULAR TUTORIALS
Hi, what version of Logic does this course cover, and does it also help with hardware such as Midi Keyboards? Thanks

Hi, it covers the latest Logic Pro version (the course was made around Jan 2021) and we don't really go into midi keyboard setup too much as most of them are plug and play. If you have many knobs that you're looking to assign to different parameters then you will probably need to look for more specific videos. All the best, BTP

I purchase this program but I can't find if in my email how do I long in

Hi, the email with the link will be in your junk / spam folder. If you still have problems please contact customer service (Go to Support on website) and quote your name and order number. Thanks.