Drone Sound Library For Kontakt
Unique and Exciting World Instrument Sound Libraries
The Drone Bundle is a set of unique and unusual world instruments created by composer and sound artist Piotr Nowotnik. The bundle includes the first ever library of a Lira Korbowa, a Polish variant of a hurdy-gurdy, with its innovative modular sampling concept as well as the only in the world Kontakt instrument of Swedish Säckpipa, a highly evocative Nordic bagpipe from Sweden. Exclusively for Born to Produce we have added a free Whistlehole library which is a unique etheric instrument designed from the sounds of tin whistle and human vocal chords.
REQUIRES FULL VERSION OF KONTAKT
GET CREATIVE WITH UNIQUE WORLD INSTRUMENTS >>
All content in the series is captured in 24-bit depth by a set of three microphones: * condenser - positioned above the instrument and essential in catching all those wandering overtones, * piezo-ceramic - sitting tightly near the bridge and ensuring that any ancient wood is not vibrating in vain! * silver bullet condenser - roaming where necessary to get anything from depths of the body to the hinges of the tangent box.
"I believe that virtual instruments should be organic and naturally playable" Piotr Nowotnik
LIRA KORBOWA - STARTER (Pack 1)
Scroll Down For A Demo Video
Lira Korbowa - Pack 1 for Kontakt is a creatively sampled custom-built Polish hurdy-gurdy. It features 1.5 octaves of melodic strings sampled together with C/F drones in Lydian mode, as well as its original C drone with melodic strings sampled separately for more melodic flexibility. This is an authentic recording, sampled with very little post-processing for higher authenticity and to preserve its genuine overtones. This is the first instalment of the hurdy-gurdy collection starting from simple, playable patches - delivering the authentic sonic enjoyment of this unique instrument, to more complex extended techniques and unique playing styles. It is said that "there are no two hurdy-gurdies with identical sound". Having in mind that on an actual hurdy-gurdy, we will hear 'open melodic string' in the keyboard's 'resting' state, I have placed "open-G" just a 5th apart from the drone so your left 'pinky' can hold the drone and your thumb press 'Open G' whenever 'all melodic notes are released'. Piotr recorded key-attack noise and all the hurdy-gurdy noises without 'synthesizing it' - the key 'clicks' you hear are the real thing!
LIRA KORBOWA - BUZZDOG (Pack 2)

2 Elements
1. buzzDog - The Loop Host is synchronised loops of trompette - a small wooden bridge resting on the soundboard, without being permanently attached. The technique required to induce a rhythmical vibration against the soundboard relies on sudden attacks (accents) while turning the wheel. A trompette string is usually tuned in unison with a melodic string but its pitch is constant. Here, the Loop also delivers something that can't be easily achieved on a single hurdy-gurdy: the trompette string, originally tuned in G, has been extended to include all twelve notes. So to play a chord using trompette sound you need at least three hurdy-players with each one tuned differently OR you can just buy the buzzDOG - simple! The Trompette is only found on a hurdy-gurdy. Loops are recorded in 80 and 120 BPM and variations of rhythmical patterns are spread across two to four velocity layers. All loops are using Time Machine Pro, so they are easily syncing the tempo with your host.
2. buzzDOG - Percussion/SFX is percussion sounds obtained from knocking, bending, stretching, turning, squeezing, and bouncing bits and pieces of the instrument. All the sounds are very organic - delivering the very essence of structural frailty of a hurdy-gurdy.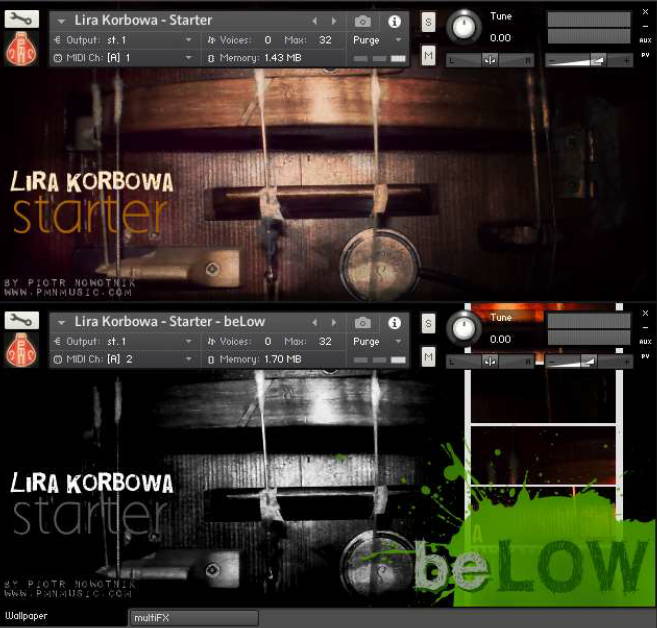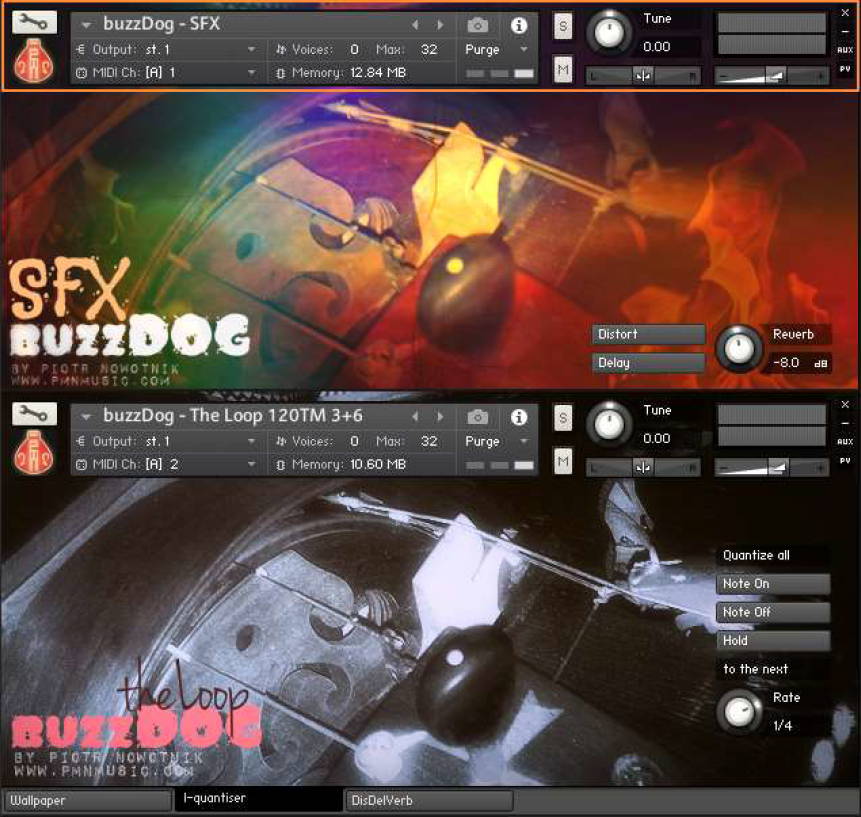 LIRA KORBOWA - BURDRON (Pack 3)
This instrument is compiled entirely from re-tuned "bourdon" strings (drones) of a Polish hurdy-gurdy. The keyboard is divided into three zones: Left: processed double "D" stretched across one octave for extra low drone Middle: drones including chromatic notes Right: natural harmonics relayed into a playable chromatic keyboard Velocity layers control the friction: from slow wheel turning when a string is barely making a sound to high speeds when the string is almost losing its grip on the wheel! Harmonics have their natural sound divided into two velocity layers: low - for natural sounds; top - for vibrato (yes! harmonics + vibrato). Also, don't be surprised if some TOP velocities will 'stall' the string! That's what happens if the wheel is turned too fast - a harmonic chaos Piotr wanted to capture. This and more sonic surprises await you inside - just like with a real hurdy-gurdy. Also included are : 4 round robins - for more organic hurdy-vibe including all hurdy-gurdy grittiness! : knocks, squeaks, imperfections : 16 samples per drone notes, 8 samples per harmonic note : one single patch that covers it all : authentic sounds without over-stretching the original recordings.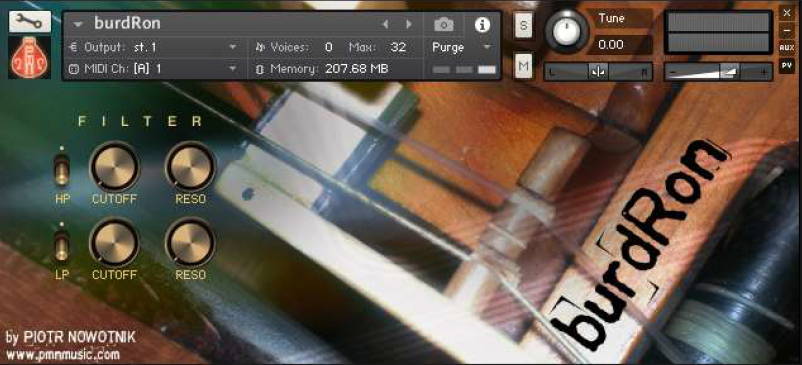 SÄCKPIPA- AUTHENTIC SWEDISH BAGPIPE
Scroll Down For A Demo Video
Swedish Bagpipe ('Säckpipa') is a little known traditional Scandinavian instrument. This particular pipe set has been hand-crafted from a unique combination of olive tree wood. It is a single-reed instrument with its drone open "E" matching the octave of its 'closed' chanter. Piotr also managed to capture its unique 'flutter/tremolo' ornament available only for some parts of the chanter. This library includes four patches (with 3 expressive velocity layers): 1.Säckpipa - Swedish Bagpipe: Instrument sampled in its natural scale of E/A - every note has been sampled accordingly including characteristic three-hole drone. 2.Säckpipa - Swedish Bagpipe Chrom: As above but with more notes added for more melodic/tonal flexibility in your project! 3.Säckpipa - Swedish Bagpipe Chanter Legato: Just a chanter (extended with chromatic notes) and equipped with a legato script 4.Säckpipa - Swedish Bagpipe Drone - Just a drone - extended, twisted, lowered, "didgeridoo'ed" - but also including the original three notes. The instrument is using 3 velocity layers assigned to different levels of performance expressiveness: Low velocity gives us smooth natural note : Medium velocity gives us more attack with a slight touch of grace notes : High velocity gives us more 'grace note' kick with a dash of tremolo "flutter". Note : This is the very first library of Swedish Bagpipe in E/A for Kontakt!
WHISTLEHOLE – RUSTIC TIN WHISTLE HUMMING
The idea of this sound appealed to Piotr for the first time when recording an experimental soundtrack for a short film - "The Journey" (soundtrack nominated to the "Best Soundtrack Album 2013" awards by Screen Australia/APRA). Basically humming/singing into the tin whistle while playing it. Chaotic interference of air and sound waves is always bringing fresh results - no two takes were identical! This library captures that sonic experience: fragile, imperfect yet persistently sustained sound. Haunting yet border-lining with comical. Industrial yet spiritual. Ugly yet beautiful. The instrument consists of two patches: Polyphonic : Left hand: Tin whistle in 'C' "hummed into" an octave below : Right hand: Another tin whistle in 'C' plus unison humming Legato utilising SIPS Legato Script Happy blowing/humming!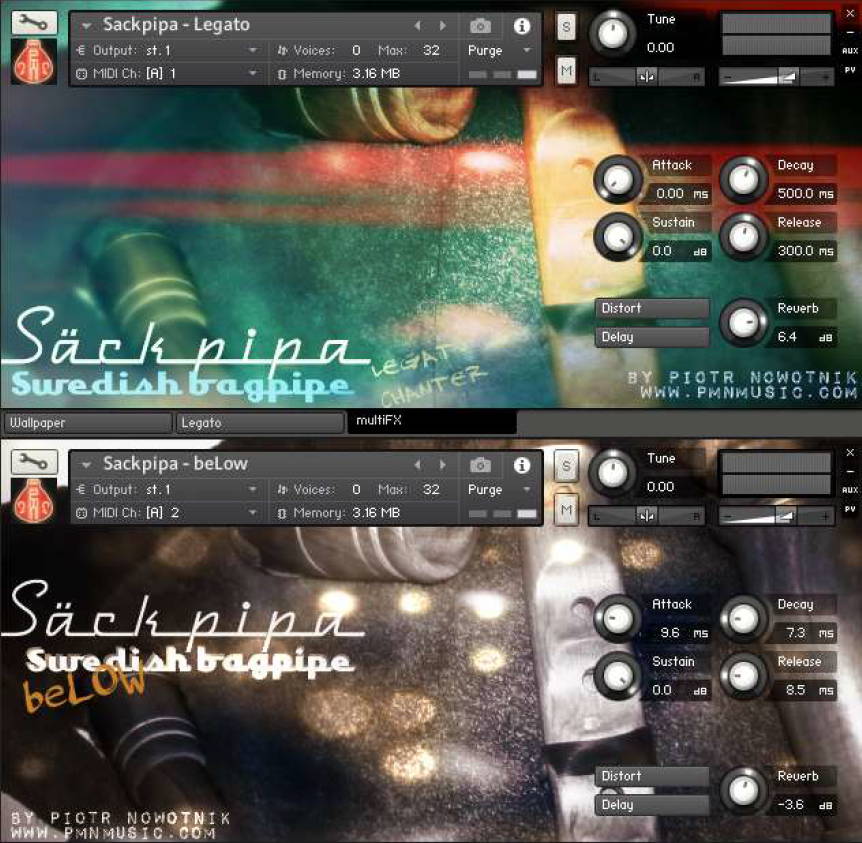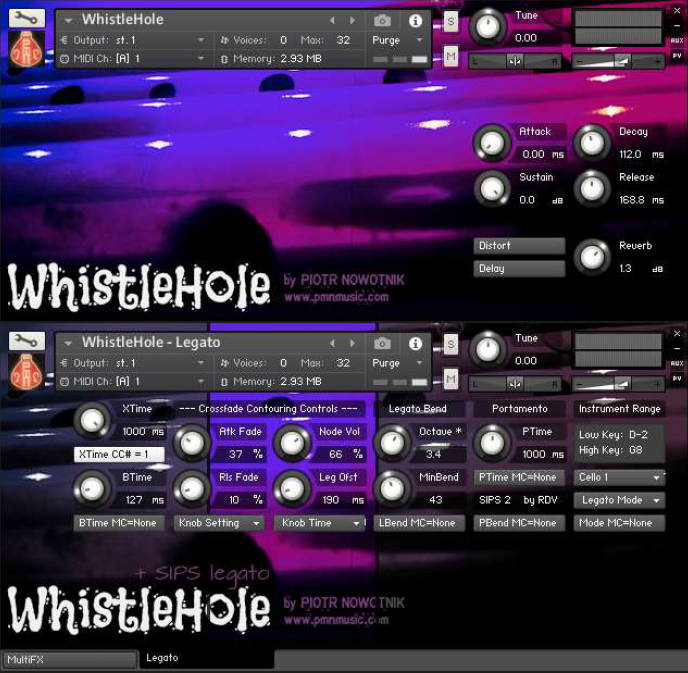 Kontakt Sound Library
Lira Korbowa - BuzzDog
(Polish Hurdy-Gurdy)
Kontakt Sound Library
Lira Korbowa & Säckpipa
(Polish Hurdy-Gurdy and Swedish Bag Pipes)
Kontakt Sound Library
Whistlehole – Rustic Tin Whistle Humming
"I believe that virtual instruments should be 'organic', naturally playable and aimed at delivering that authentic sonic joy - the same which is felt while playing a real instrument. All those overtones, subtleties and whims of strings, reeds and membranes - I want to capture all of it for others to enjoy" Piotr Nowotnik
"Absolutely loving the tutorials you guys are doing! Great stuff :-) "
Karl B
REQUIRES FULL VERSION OF KONTAKT
GET CREATIVE WITH UNIQUE INSTRUMENTS >>
Piotr Nowotnik started composing at the age of 10 and has gone on to

compose music for theatre, film and games. He graduated from the Victorian College of the Arts in Music Composition and finished his Master degree at the University of Melbourne. Currently, Piotr's works are being

performed in China, France, Australia and the USA.

His recent commissions include music for

Melbourne Fringe Festival

,

Pleroma Theater

from Hong Kong, Human Dance company from Paris, soundscapes, and soundtracks for Melbourne-based '

La Mama

' theatre. He worked as sound designer on "

Steppenwolf

" production developed by The New School in Manhattan, New York. In 2016, Piotr was commissioned to compose music for a broadway-style musical.

His soundtrack album for "The Journey" (premièred at the Cannes Festival in 2013) has been nominated for "

Best Soundtrack Album

" award.
Get in contact any time to give feedback, ask for help or just say hello. Use the contact form HERE
OUR MOST POPULAR TUTORIALS
QUESTIONS & ANSWERS
Have a Question?
Be the first to ask a question about this.
Ask a Question