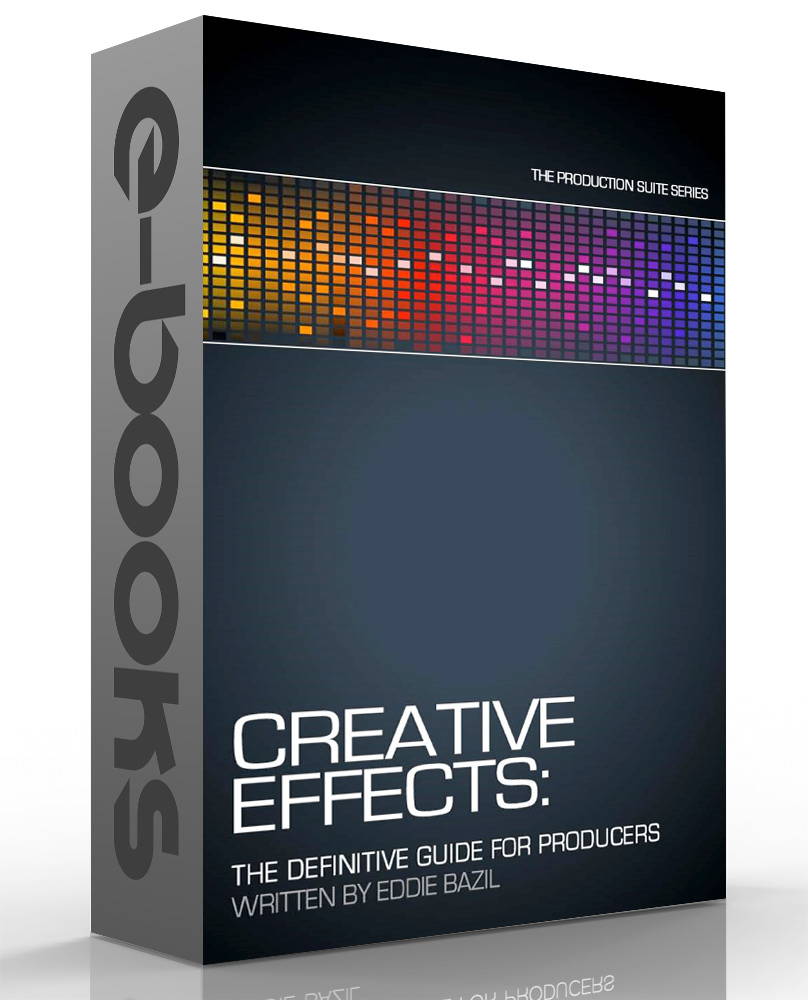 Creative Effects - The Definitive Guide
"Creative Effects is an astonishigly detailed, readable and thoroughly inspiring book. It's a complete no brainer of a purchase, which I can't recommend highly enough".
- Hugh Robjohns (Technical Director of Sound On Sound magazine)
---
Creative Effects: The Definitive Guide For Producers offers over 200 pages of production secrets that will help both beginners and more experienced producers and sound designers alike, accompanied by a massive 600 megabytes of before/after audio examples.
---
200 page Ebook (PDF)
10 Distinct Chapters to Master
Over 580 Audio Examples
Any DAW
Instant Download
Get the definitive guide to Creative Effects! >>
Eddie Bazil has been a professional producer, sound designer, remixer, programmer and teacher for many years. He has worked with some of the best in the music industry and his experience really shines through in this book.

Chapter by chapter, the world of effects is painstakingly explored in a very practical way, with clear screenshots of all effects including all parameter movements and selections, plus copious audio examples that illustrate each point along the way so you understand exactly how to best use each specific effect.

All the basic effects such as reverb, chorus, delay, flange and phaser are explored, along with more unusual ones like pitch manipulation, filters and formants, harmonic distortion and source and destination modulators. A huge library of both free and carefully selected commercial VSTs are also covered with in depth explanations and screenshots showing how best to use them, so you can follow the exercises yourself and experiment as much as desired.
Each chapter is devoted to a specific effect, while the final chapter delves into the world of more extreme and creative effects, using several in series or parallel to create completely new sonic textures, from warped vocoded effects to autotuned rhythmic sequences, from pitch manipulated delays to aesthetic sweeping pads, from dark dropping cannons to ghostly whispers. It's all here and much, much more.

This book is obviously a labour of love, and goes much further than simply explaining the functions of every control, exploring their various further creative possibilities. For instance, Reverbs are great but room ambience recordings using a microphone or adopting Impulse Responses are equally useful but far more interesting. Tape saturation is extremely useful, as is tube/valve, but have you ever wondered how they work, what the harmonics affected are? Have you ever wondered how an Autotuned female vocal line run through a vocoder and layered with filter modulation sounds like? This type of effect is what this book is all about.
'Creative Effects' is the perfect book to expand your knowledge of effects and master their practical application, and at £8.99 it's an absolute bargain for the music producer and sound designer alike!

Creative Effects – Contents

1) Introduction

2) Reverb
3) Modulators
4) Delay
5) Chorus
6) Flanging and Phasing
7) Distortion (harmonic, tape saturation, valves etc)
8) Filters
9) Pitch manipulation
10) Creative effects
11) Final word
Eddie's expert knowledge and years in the industry working with the likes of the Pet Shop Boys, Busta Rhymes, Spandau Ballet, DJ Shadow (to name a few) really shines thorugh. And if you need any further clarification that Eddie knows what he's on about he also writes articles for Sound On Sound magazine.
"Another true and insightful masterclass from a highly skilled professional"
Get the definitive guide to Creative Effects! >>
Eddie's professional musical career started during his teens, when he became a programmer for some of the most notable Electro/New Wave and Dance/Rap bands of the time, including AON, DJ Shadow, Juice, Pet Shop Boys, Spandau Ballet, C Campbell, Bobin, Paul Dee, Jets Orchestra, DJ Krush and many more. His career and experience progressed as he became a popular remixer and producer, working on projects with Busta Rhymes, SFP, Bobin, Dee, DJ Krush, DJ Shadow, Sleeveless, Greensleeves, 9 Bar and Gam Productions, with many of his tracks achieving top chart positions. He is currently involved in various production, remixing and sound-design projects, as well as sharing his knowledge by teaching workshops and providing online tuition through Samplecraze. Eddie has also been a contributing writer for Sound on Sound, and has published several books on audio technology.
Get in contact any time to give feedback, ask for help or just say hello. Use the contact form HERE
---
---
---
OUR MOST POPULAR TUTORIALS
---
QUESTIONS & ANSWERS
Have a Question?
Be the first to ask a question about this.
Ask a Question