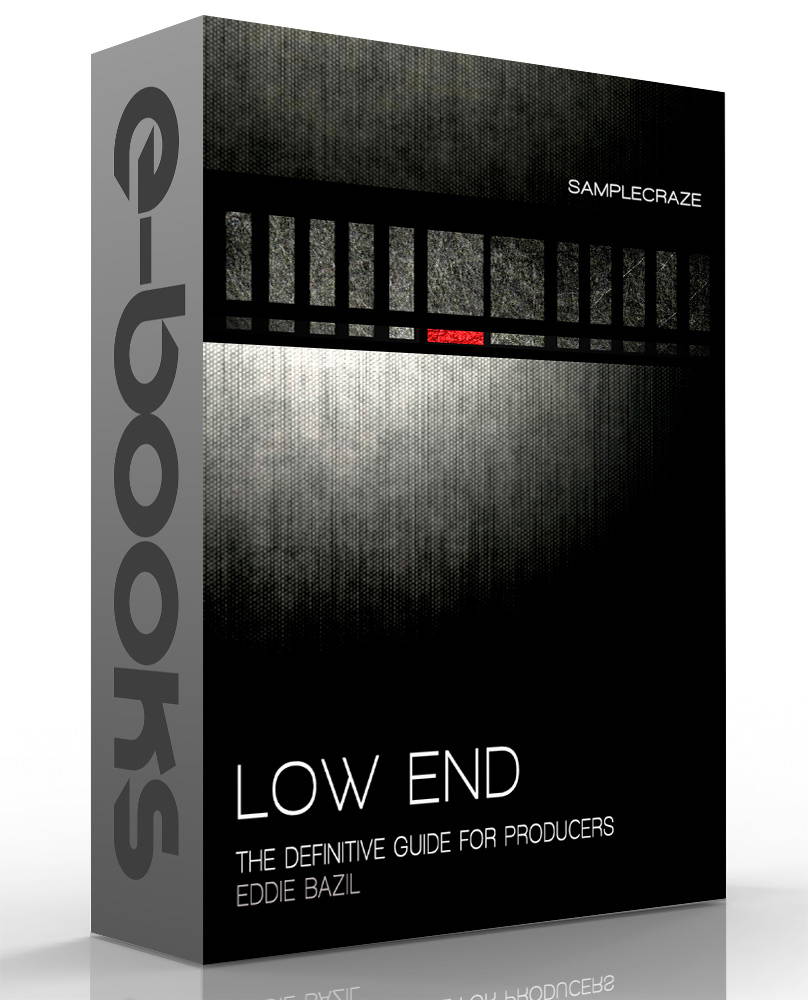 Low End - The Definitive Guide For Producers
Mastering low end mixing can take years and sometimes can seem like it's a dark art that only a few can achieve. In this excellent book Eddie Bazil breaks all of those myths and shows you exactly how to approach each and every aspect of getting the perfect low end mix in all of your tracks.
---
For the first time ever an entire book has been dedicated in exploring and revealing some of the music industry's secrets on how they manage the Low End of a mix.
This book contain over 310 pages of highly targeted and focused techniques and approaches to mixing the low end, all illustrated with screen shots and audio examples.
---
310 page Ebook (PDF)
12 Chapters
Over 370 Audio Examples
Any DAW
Instant Download
Get the definitive guide to Low End Mixing! >>
Inside you will find chapters that cover very specialized techniques and processes, each accompanied with before and after audio examples with clear and concise large screen grabs for easy reading. In addition to all detailed descriptions and analysis, each chapter includes clear screen shots from a range of recommended VST software plug ins, showing you every setting, parameter and slider position, plus every single audio example discussed in the book is included (24 bit stereo WAV files), ready to open up in your favourite audio editor and DAW for full analysis. Each process example is carefully analyzed, explaining exactly how each parameter you adjust is altering the audio, ensuring you completely understand how to use the different techniques to professionally construct and transform your Low End tasks.
Covering everything from choosing classic sound sources like the classic Roland TR808 and 909 synths, to programming parts with a real feel — and parts that won't cause problems when it comes to the mix. There's plenty of practical advice on sound-sculpting using filters, both creatively and to remove 'mud' and avoid masking, on dynamics processing and ways to add 'warmth' using tube, tape and analogue gear emulations. All of the production tricks you'd expect to see in dance, pop and urban genres are explained in detail, from layering different sounds and parallel processing, through side-chaining your gates and compressors for pumping and other effects, triggering sub-bass synths, and modulation of various synth and effects parameters, to the many different ways you can use automation to your advantage.
The main focus is on the practical skills and tips that you need to make quick progress, and throughout the book Eddie Bazil demonstrates techniques using what he calls 'Sound Design Remixes', where he takes a real-world project and reworks the bass end textures and timbres to illustrate exactly the effect he is talking about, and all this on top of the standard 'Production Mixes'. But he's also backed this up with plenty of useful theory that will help you keep learning and experimenting for years, including a detailed consideration of phase and phase-cancellation — which can not only cause problems like making your low end sound thin (or even disappear!), but can be turned to your advantage when you know how.
Eddie's expert knowledge and years in the industry working with the likes of the Pet Shop Boys, Busta Rhymes, Spandau Ballet, DJ Shadow (to name a few) really shines thorugh. And if you need any further clarification that Eddie knows what he's on about he also writes articles for Sound On Sound magazine.
"Another true and insightful masterclass from a highly skilled professional"
Get the definitive guide to Low End Mixing! >>
Eddie's professional musical career started during his teens, when he became a programmer for some of the most notable Electro/New Wave and Dance/Rap bands of the time, including AON, DJ Shadow, Juice, Pet Shop Boys, Spandau Ballet, C Campbell, Bobin, Paul Dee, Jets Orchestra, DJ Krush and many more. His career and experience progressed as he became a popular remixer and producer, working on projects with Busta Rhymes, SFP, Bobin, Dee, DJ Krush, DJ Shadow, Sleeveless, Greensleeves, 9 Bar and Gam Productions, with many of his tracks achieving top chart positions. He is currently involved in various production, remixing and sound-design projects, as well as sharing his knowledge by teaching workshops and providing online tuition through Samplecraze. Eddie has also been a contributing writer for Sound on Sound, and has published several books on audio technology.
Get in contact any time to give feedback, ask for help or just say hello. Use the contact form HERE
---
---
---
OUR MOST POPULAR TUTORIALS
---