LOGIC PRO X -

YOUR NEXT STEPS
LOGIC PRO X -

YOUR NEXT STEPS
LOGIC PRO
YOUR NEXT STEPS
Logic Pro Tutorial - Next Steps
* Expand Your Logic Pro Knowledge *
If you have completed our 'Logic Ultimate Beginners Course' or you have a basic knowledge of Logic Pro already, then this course is perfect for you. This tutorial will go into much more detail on all of Logic's features, and you'll see practical demonstrations of recording and mixing along the way to help cement your new skills.
Watch the course overview for a more in-depth look at what you'll get out of this comprehensive, 9 hour tutorial.
Module 1 - Getting Started
Basic Settings
Interface Setup
In-built Sound Library
Module 2 - User Interface
Track / Arrange View
Loops Grid
Inspector
Mix Window Overview
Customization
Module 3 - Getting To Know Logic
Project Handling
Different Track Types
Intro To Plugins (VSTs)
Module 4 - MIDI in Logic
First Steps With MIDI
Inputting & Editing MIDI
Recording & Quantizing MIDI
Module 5 - Drum Machine Tools
Logic's Drummer Tool
Drum Machine Designer
Drum Machine Advanced Features
Module 6 - Step Sequencer
Patterns & Events
Edit Modes
Creating Melodies
Module 7 - Global Tracks
Marker, Arrangements & Markersets
Tempo, Signature & Transpose Changes
Module 8 - Recording & Editing Audio
Preparation & Monitoring
Different Recording Modes
Track Stacks & Levels
Recording Vocals
Audio Editing
Pitch and Timing Corrections
Module 9 - Live Loops
Creating Tracks, Cells & Scenes
Create An Arrangement
Transfer To Track View
Module 10 - Mixdown & Finalizing
Send FX Via Auxes (Reverb & Delay etc.)
Using Buss Tracks
Balancing Levels & Pan
Smart Controls
Automation
Bouncing Your Track For Completion
Check out these free lessons...
How to create your own songs, beats and tracks with Logic Pro X

Create interesting drums and beats with Logic's Drummer and Drum Machine Designer

How to use the Step Sequencer & Piano Roll Editor for various tasks
Master the Software Instruments (VSTs) for chords and melodies

Record and edit your vocals and instruments with confidence

Mix and Master your song with the help of Logic Presets

Learn many tips & tricks to enhance your workflow and make your life easier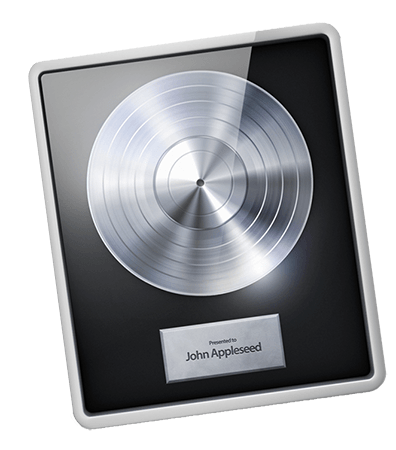 The reason we get great reviews...
Logic Pro is an incredibly powerful DAW, capable of the highest level of professional music production. In order to learn it, you need a tutorial with the same level of professionalism, and a teacher who is passionate about helping you become a better producer.
Our tutorials take months of planning and execution. Everything you are taught has the sole purpose of giving you the best learning experience and the greatest transfer of knowledge possible. Simple, powerful & fun.
ONWARDS!
We hope the free lessons were helpful. If you want to continue to master Logic Pro X , click the button and gain access to the remaining 29 lessons (over 8 hours) of Logic Pro and music production gold dust.
By making a commitment to yourself and learning Logic Pro, you are also supporting us, and enabling us to keep making these in-depth tutorials that help thousands of fellow earthlings around the world become better music producers.
Instant Download

Only stock plugins and instruments used

Email support (less than 24 hour response time)

Logic Pro X project files are provided
Jan Röher
I've been a musician for over 25 years now. As a songwriter and producer, I was involved in a wide variety of musical projects and bands - ranging from Rock and Pop all the way to EDM and Electronica.
For more than 15 years I have also been working as an audio engineer in the field of music production and audio post production for Film and TV.
Stefan Schüle
I'm a German Singer-Songwriter and Producer with more than two decades of experience. Since the very beginning I have been using Logic Pro for all of my projects.
I work with music artists and producers to create and release our - their music.
I really enjoy writing and producing all types of music, but I especially love teaching it online.
Get in contact any time to give feedback, ask for help, or just say hello. Use the contact form HERE
OUR MOST POPULAR TUTORIALS
QUESTIONS & ANSWERS
Have a Question?
Be the first to ask a question about this.
Ask a Question